Transforming Teaching to Generate Student Success

Teaching Excellence Academy
Join the TEAM!
The Teaching Excellence Academy is the flagship program of the Office of Faculty Development. Using a community of practice approach, the Teaching Excellence Academy is an opportunity for select faculty to meet with colleagues and an educational consultant to discuss teaching and learning and promote teaching excellence at the UCR School of Medicine.
---
Who Should Apply?
The Teaching Excellence Academy is primarily intended for mid-career or other faculty with some knowledge and experience with teaching and learning. The program is open to anyone with a UCR faculty appointment whether they are teaching didactic lectures, case-based learning, clinical skills, doctoring, or in a clinical setting. It is generally not intended for faculty completely new to teaching.
---
What our TEAM Members Say
Applying to the Teaching Excellence Academy
The application process for the Teaching Excellence Academy beings in July and the program begins in October. To be considered for the program, you must meet the following eligibility requirements.
Have a faculty appointment at UCR at the time of application and throughout the program.
Be nominated by the chair of your department or a member of the leadership team of the UCR School of Medicine.
What are the Benefits?
The benefits of participating in the Teaching Excellence Academy are numerous. They include:
Opportunity to learn more about teaching and learning and work on continuous improvement of your teaching skills.
Receive support and assistance from a small cohort of experiences professionals.
Opportunity to present at the annual Quality Improvement Conference.
Recognition by the vice chancellor of the School of Medicine at an annual ceremony.Completion of the program and entry into TEAM will be taken into consideration for merit and promotion.
Entry into TEAM (Teaching Excellence Academy Member) which makes you part of an elite and growing group of faculty members who are recognized for their teaching expertise.
About the Application
The application process opens in July 2022. The committee meets in August to select participants who are notified in late August or early September. The program begins in October.
The application period is closed for 2021. Applications for the 2022 cohort will be available in July of 2022.
Deadline: Applications must be submitted by August 19 for consideration in next year's cohort.
Complete an application form and indicate the individual who will be nominating you.
Ask your nominator to complete the nomination form.
Briefly describe your intended transformational project. The project idea can be at an early stage.
Upload your curriculum vitae or resume.
What am I Expected to Do?
Since the Teaching Excellence Academy is a community of practice approach to faculty development, there are certain expectations of faculty members who are selected to participate. These expectations include:  
Because each member of the cohort is an important part of the learning experience, we ask that all participants commit to attending all sessions unless an emergency prevents attendance. The program consists of seven three-hour sessions held from October to May. Due to heavy schedule commitments, we will not hold a session in December. Sessions are held in the Medical Education Building on the campus of UCR from 6 – 9 p.m. Dinner and parking are provided for each session.
There is an expectation that participants complete pre-work and come to each session prepared to actively participate. This content is not overly burdensome, requiring only 30-45 minutes of preparation time, but ensures that each session is effective and high yield.
Each Teaching Excellence Academy participant completes a transformational teaching project during their academy year, reports on the results at the Conference on Teaching and Learning, and submits the work for publication.
Teaching Excellence Academy members agree to identify as such in all UCR related communications.
What Will I Learn?
The curriculum for the Teaching Excellence Academy includes sessions on:
Foundations of curriculum and how what factors are considered as medical school curriculum is created and delivered.
Teaching and learning theory and an exploration of how it relates and can be used to inform teaching in medical education.
Instructional strategies and exploration of best teaching practices including a shift from a traditional teacher-centered paradigm to a learner-focused approach to teaching.
Assessment and grading and strategies for assessing learner performance in both the classroom, lab or clinical setting.
Learning climate and inclusive teaching methods to ensure all students are being given an equal opportunity to benefit from their medical education.
Leadership and mentorship skills and exploration of personal leadership within an academic medicine environment and principles for effective mentoring.
---
Previous Cohorts
Cohort 3: 2020-2021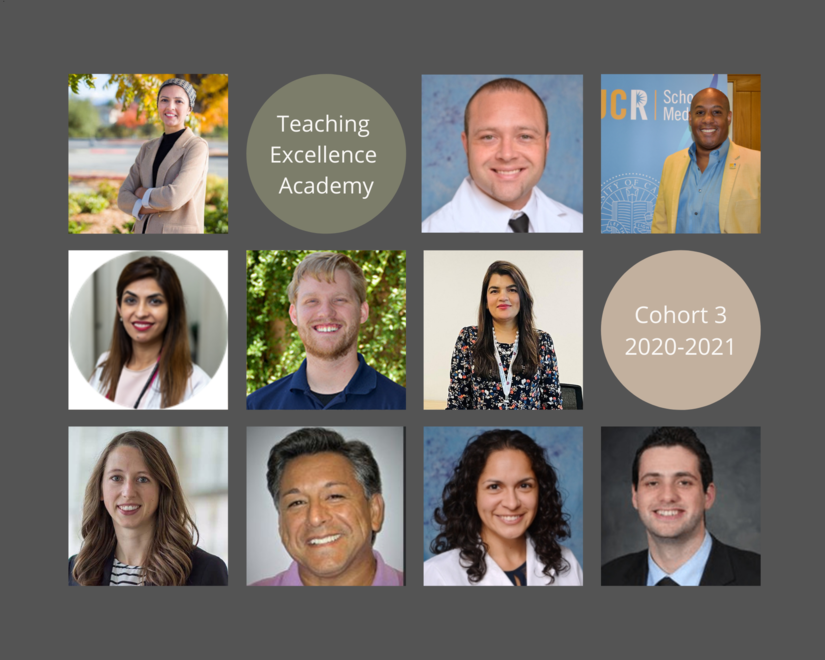 Cohort 2: 2019-2020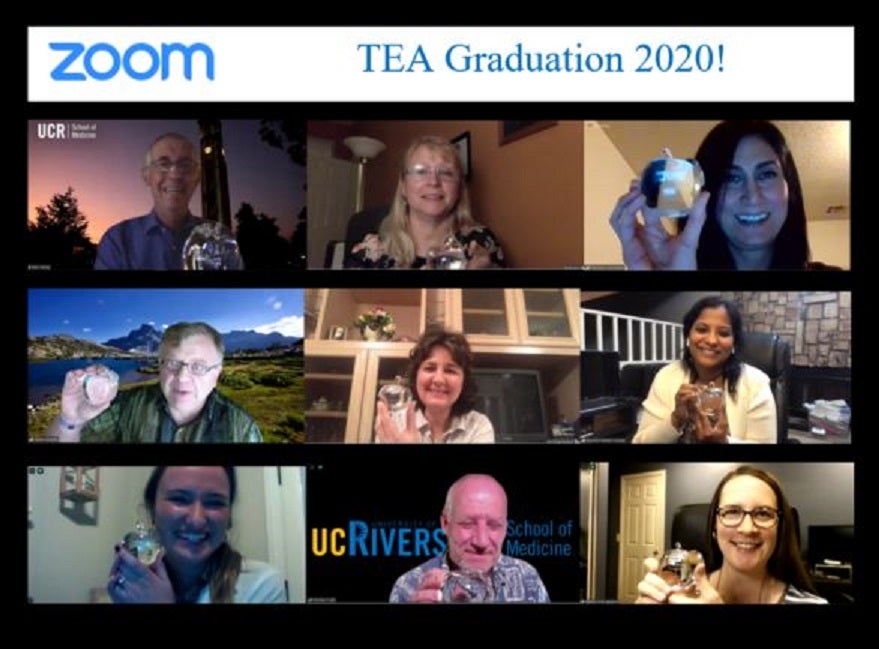 Cohort 1: 2018-2019